Marcus Lyle Brown (born 26 December 1970) is an American film and television actor.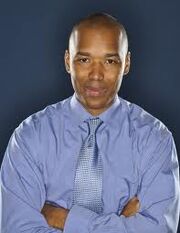 Year
Title
Role
Notes
1995
Dead Man Walking (film)
Parole Board Member
Film Debut; Uncredited
1996
Schizopolis
Corporate Mole
Uncredited
The Big Easy
Martin
TV
1997
Eve's Bayou
Hosea
1998
Black Jag
Lacey Blackman
TV movie
Solitude Point
Tim Porter
1999
Lush
Rookie Cop
2001
Monster's Ball
Phil Huggins
2002
The Badge
Deputy Jackson
2003
Tough Luck
Popeye
2004
Torn Apart
Security
TV Movie
The Madam's Family: The Truth About the Canal Street Brothel
Court Clerk
TV Movie
Heart of the Storm
Juke
TV Movie
2005
The Shield
Cromo
TV
Locusts
FBI Agent
TV Movie
Heartless
ICU Doctor
TV Movie
Elvis
Wynonie Harris
TV
Venom
Terry Parker
As Marcus Brown
2006
Big Momma's House 2
Erskine
Thief
Surgeon
TV Series
Mammoth
Agent Whitaker
TV Movie
One Tree Hill
Father Gillespie
TV Series
Life Is Not a Fairy Tale: The Fantasia Barrino Story
Producer Two
TV Movie
Prison Break
Fed #1
TV
The Year Without a Santa Claus
Officer Jefferson
TV Movie
2007
Premonition
Bob
The Great Debaters
Howard Debater #1
2008
Who Do You Love
Jess
2009
I Love You Phillip Morris
Young Doctor
Wolvesbayne
Konstantinos
TV Movie
Hurricane Season
Jonathan's Father
The Dunwich Horror
Father Endelade
TV Movie
2010
House of Bones
Greg Fisher
TV Movie; as Marcus L. Brown
Pregnancy Pact
Doctor
TV Movie
Quantum Apocalypse]]
Carson
TV Movie
My Own Love Song
NOLA Police #1
The Gates
Medical Examiner
TV
Revenge of the Bridesmaids
Detective Ramirez
TV Movie
Drop Dead Diva
A.D.A. Paul Saginaw
TV
Snatched (film)
Jay the Anchorman
2011
Swamp Shark
Deputy Cooper
TV Movie;
Texas Killing Fields
CSI
Seeking Justice
Detective Green
Post-Production
2012
Bending the Rules
Cop #5
Post-Production
The Host
Fords Deep Waters
Post-Production
External Links
Ad blocker interference detected!
Wikia is a free-to-use site that makes money from advertising. We have a modified experience for viewers using ad blockers

Wikia is not accessible if you've made further modifications. Remove the custom ad blocker rule(s) and the page will load as expected.