Seekers
Seekers are invading souls who are assigned to track the remaining "wild" humans (on other planets they go after the respective planet's indiginous sentient inhabitants). They have apparently taken over the human police's former equipment. It was Seekers who captured Melanie after receiving a tip-off. Wanderer, herself is later pursued by a Seeker when she is suspected to be helping the "insurgents". Seekers are typically the only souls that will lie or fight a human.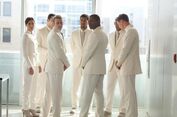 Ad blocker interference detected!
Wikia is a free-to-use site that makes money from advertising. We have a modified experience for viewers using ad blockers

Wikia is not accessible if you've made further modifications. Remove the custom ad blocker rule(s) and the page will load as expected.