'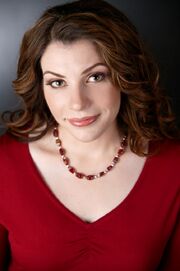 '
Stephenie Meyer
 (née 
Morgan
, born December 24, 1973) is the American author of the 
Twilight Saga
 and 
The Host
. She lives in 
Phoenix, Arizona
 with her family.
Personal Life
Meyer was born in Hartford, Connecticut, and grew up in Phoenix, Arizona, with five siblings: Emily, Heidi, Paul, Seth and Jacob, all of whom are mentioned in the Twilight saga. Meyer attended Brigham Young University in Provo, Utah, where she majored in English. She met her husband Christian, nicknamed "Pancho", while growing up in Arizona, and married him in 1994. They have three sons, Gabe, Seth, and Eli.
Writing
Meyer says that the idea for Twilight came to her in a dream. After writing the novel, she signed a three-book deal with Little, Brown and Company.
The sequel to Twilight, New Moon, had an unintentional staggered release all over North America, beginning in early August 2006. Meyer initially wrote an alternative sequel to Twilight, called Forever Dawn, which she then used as an outline for the remainder of the series. She has stated that the novel will never be published, as it doesn't fall into the genre of young adult. The third book in the series, Eclipse, was released on August 7, 2007. The fourth book, Breaking Dawn, was released on August 2, 2008. Meyer revealed that Breaking Dawn will be the last book written from Bella Swan's perspective. Meyer was also writing Midnight Sun, a companion piece to the series that would describe Twilight from the view of Edward Cullen, but has put the project on hold due to a leak; she said she would continue writing it when two years have gone by without hearing or seeing anything about it.
Source: http://twilightsaga.wikia.com/wiki/Stephenie_Meyer

---
---
(But if you have any questions in why this page is a stub please message Big Brother 99 who has adopted this wiki, thank you!)
---
Ad blocker interference detected!
Wikia is a free-to-use site that makes money from advertising. We have a modified experience for viewers using ad blockers

Wikia is not accessible if you've made further modifications. Remove the custom ad blocker rule(s) and the page will load as expected.