I like The Host (the book and the movie both) and I was thinking of making a quiz about them. So, I've tried to make it. I don't know how it is, but I hope you'll like it. I'll give the answers later if you like it.
1. When did Wanda smile at Ian for the first time in the film?
a) When Ian saved her from Jared
b) When Ian offered her his bottle of water
c) When Ian came alone to the place where she was imprisoned by Jared
2. Look at the picture of the soul -
Who is it?
a) The Seeker
b) Healer
c) Wanda
3. 'Is she still in there with you?' - Who said this?
a) Jared
b) Jamie
c) Ian
4. Who died in the movie during Raiding?
a) Brandt and Wes
b) Aaron and Brandt
c) Wes and Aaron
5. Who was the husband of Wanda's Comforter in the book?
a) Cart
b) Kurt
c) Curt
6. ' But it's barbaric ! ' - Who said this?
a) Faces Sunward
b) Sunlight Passes Through the Ice
c) Robert
7. What do you think of this picture?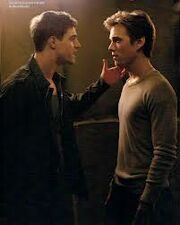 a) Jared is telling Ian not to trust Wanda
b) Jared is telling Ian to stay away from Wanda
c) They are arguing about Wanda's giving the body back to Melanie
8. Who had a skin cancer?
a) Roger
b) Regan
c) Richard
9. Who healed Wanda's self created injuries in the movie?
a) Healer Knits Fire
b) Healer Skye
c) Healer Fords Deep Waters
10. What is the colour of water in the planet where See Weeds live?
a) Silver
b) Ash
c) Grey
Feel free to improve this Quiz if you want.
Ad blocker interference detected!
Wikia is a free-to-use site that makes money from advertising. We have a modified experience for viewers using ad blockers

Wikia is not accessible if you've made further modifications. Remove the custom ad blocker rule(s) and the page will load as expected.